Stainless Steel Air Pad Hinge
Medical equipment manufacturing demands the kind of specialized expertise RB Tool & Manufacturing Company can provide. Our state-of-the-art facility and staff of knowledgeable technicians have helped us attain our reputation for providing exceptional quality and service. The part pictured here is a stainless steel air pad hinge designed for use on a CAT scan bed.

Composed of 420 stainless steel, this project required a number of precision machining processes. Raw material was turned to form blanks, which then went on to one of our vertical mills. The faces were hard milled after heat treat with wire EDM used to create the slots.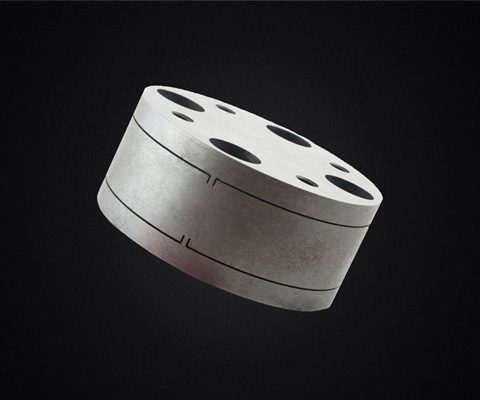 EDM allowed us to achieve a distortion free result. These processes also enabled us to maintain + 0.1 mm/- 0.0 mm tolerances on this 88.90 mm diameter, 40.00 mm wide work piece. Secondary operations involved deburring, heat treating, and passivating to deliver the hardness and corrosion resistance that would enable this part to perform accurately and reliably over a long service life.
Quality was assured by means of CMM inspection, hardness gauging, as well as optical and visual inspections conducted in accordance with our ISO 9001:2015 quality management program. Current production volume of this air pad hinge is 300-500 pieces/year. If you would like to learn more about this project, or how our expertise in meeting the high standard demanded by the medical industry can help your specific application, contact us today.
Highlights of this Project