RB Tool & Manufacturing Company has a proven reputation for delivering high quality components that meet the exacting demands of the aerospace industry. We are adept at working with a variety of materials, and have modern, multi-axis equipment that enables us to efficiently machine complex geometries from a single setup.

The cylinder block pictured here was designed for use in a hydraulic pump application. It was fabricated from AISI E 52100 steel per MIL-S-7420 specifications, which we used to rough turn the blanks. We utilize our horizontal 5-axis mill capabilites to create the holes and multiple cross-hole patterns. Parts were then hard turned and honed to dimensions of 3.374″ in diameter, and 2.788″ in length.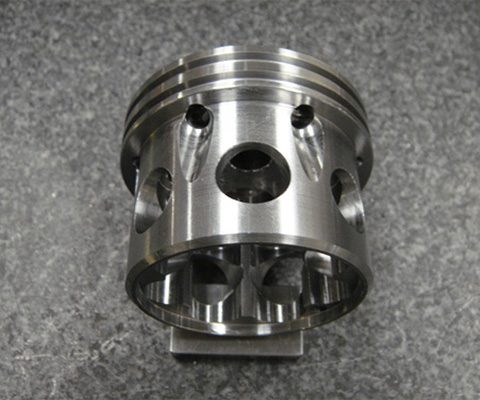 These advanced CNC machining processes enabled us to meet the demanding .0000″/.0005″ tolerance requirements, and leave a 13 RMS surface finish.

After deburring we heat treated the component to give it the corrosion resistance, high hardness, toughness, and strength to resist wear under rolling contact. CMM inspections ensured dimensional integrity, while a fluorescent penetrant inspection assured there were no surface defects that would compromise part performance.

Our in-depth knowledge of the aerospace industry and flexible, versatile processes enabled us to complete this job in a short 4 week turnaround. We continue to manufacture the part in quantities of 200-500/year. To learn more about this project or our expert aerospace machining capabilities, contact us today.
Highlights of this Project